Ohjiro Mihara (三原 王二郎 Mihara Ōjirō?) is 15 years old and is Icchan's younger step-brother. He has been involved with Angelic Layer for many years, in large part because it was what brought him and Icchan together after their parents married. Ohjiro competes in Kobe, and was the champion of the Kansai Regional games, as well as being the runner-up in the national tournament for two consecutive years. In the manga he is reassuringly asking what color are Misaki panties then running away. He has a desperate desire to defeat Shuko Suzuhara's angel, Athena, to get over a childhood crush he had on her. His angel is Wizard. In the anime, he falls in love with Misaki, but he develops a love for both Shuko and Misaki. In the manga, he has no feelings for Misaki or Shuko, but likes Tamayo.
Physical Appearance
Edit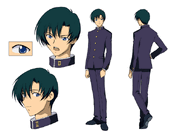 He has dark green hair and blue eyes.
Personality
Edit
Calm and almost always smiling, Ohjiro is a very kind young man and always giving to give advice and encouragement whenever it's called for. He very rarely loses his cool but can be very serious when it's needed. He has a bit of a tendency to tease people he's fond of.
Relationships
Edit
Community content is available under
CC-BY-SA
unless otherwise noted.