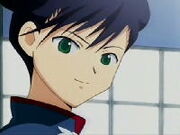 Madoka (藤崎 円香 Fujisaki Madoka) is a strong competitor in the Kantō Regional games who fights against Suzuka and Hikaru, losing to both. Madoka is a 
Kung Fu
 artist, using martial arts as her angel's chief fighting tactics. She has a strong desire to defeat Hatoko Kobayashi's angel, Suzuka, to recover her family's "lost pride". While watching Hikaru's fight against another contestant, she and her sister say to Kaede Saito and Sai Jounouchi that she will not lose to anyone until after Suzuka is defeated. Arisu and Madoka sabotage Hikaru with a transmitter that will block Misaki's thoughts from reaching her doll, but are caught by Ohjiro Mihara. After losing, Madoka obtains a new outlook on why people play Angelic Layer, realizing that it was made to be fun for any person, to the slight annoyance of her sister. Madoka's angels are created by her younger sister, Arisu.
Physical Appearance

Edit
She has green eyes.
Angel Entry Phrase: Hit! Slash! Break! Mao's fist is my fist! The Angel descends!
Date of birth: October 27, 1984
Voiced by: Tomoko Kawakami (Japanese), Shelley Calene-Black (English)
Community content is available under
CC-BY-SA
unless otherwise noted.