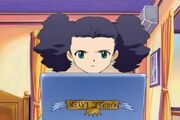 Arisu (藤崎 有栖 Fujisaki Arisu) is a talented angel builder who aids her sister in creating angels. She follows in her sister's steps as a talented Kung Fu artist, and creates strong and agile angels. Arisu does not make angels for herself. Arisu designed Mao and Unpyo to be stronger than Suzuka, but Unpyo loses to Suzuka in record time, which mortifies her and her sister. After sabotaging Hikaru with a transmitter, Arisu is caught by Ohjiro Mihara. She is told that Angelic Layer is meant to show true talent and that anyone can be brilliant; she is forced to give up cheating to win. She is very sensitive about the angels she builds, and accuses her sister of not liking the angels she made after their loss to Hikaru. Arisu creates a balance-oriented angel called Alice for herself near the end of the anime, and vows to beat Hikaru in a friendly battle. In the last episode, Arisu is shown fighting the angel Queen with Alice. She has a crush on Ohjiro Mihara, calling him "Ohijiro-sama", and asking for his autograph. She later decides she hates him after losing against Hikaru and Misaki. Arisu's name is translated in the Japanese anime credits as "Alice".
Physical Appearance

Edit
She has black hair and blue-green eyes.
Angel Entry Phrase: Unknown
Date of birth: June 25, 1987
Voiced by: Chiemi Chiba (Japanese), Mandy Clark (English)2
Community content is available under
CC-BY-SA
unless otherwise noted.